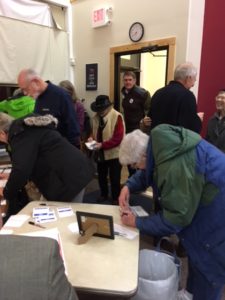 Benzie Dems and friends lined up at Headquarters' front door to put down their money down for  Democratic Party candidates in the 2018 state House election.
More than 30 folks showed up on a dark and dreary Wednesday evening, Nov. 29 for the statewide Michigan House "House Party." Each kicked in at least 25 bucks to help raise money for next year's very important (and increasingly competitive) election for the Michigan House—and to hear directly, via streaming video link, from Democratic State House Minority Leader Sam Singh in Lansing  and U.S. Senator Debbie Stabenow, speaking from Washington. The event raised more than $1,000 for 2018 Michigan House races.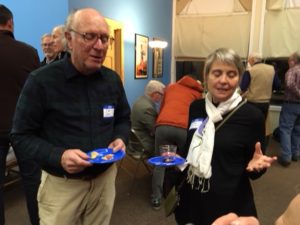 Benzie Dems Jim Olson and Linda Farrell enjoy snacks, drinks, and conversation at our House Party for 2018 Michigan House races.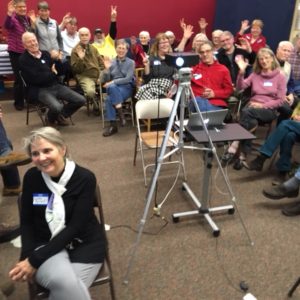 We were fired up and ready to go—waiting for the special live broadcast from Lansing and Washington DC.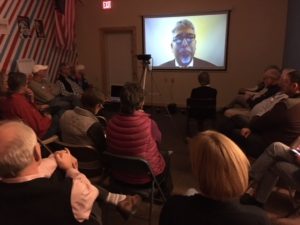 Folks listened intently to MI House Minority Leader Sam Singh and Senator Debbie Stabenow via streaming video to a statewide audience that donated to next year's crucial Michigan House races.
Our effort raised well over $1,000 for that 2018 campaign—and, since we were one of about 15 such parties across the state that night, it looks like our candidates-to-be had a very good night. First Congressional District candidate Matt Morgan showed up, too, made a contribution, and stuck around for the whole thing. Three folks from Leelanau County dropped in, as well.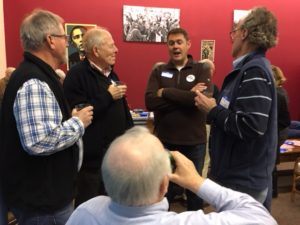 First Congressional District candidate Matt Morgan (third from left) chats with three Leelanau County dems and our own John Beeman (back to camera).
We munched on snacks, imbibed, talked lots, and listened intently to the digitally-projected online broadcast by Rep. Singh and Sen. Stabenow. And our redecorated office was a hit. The place looked great with all those people in it, and many said how much they liked its bold, cheerful new look.
A great big thanks goes to Marcia and Tom Stobie, who did a lot of calling around to drum up attendance, backed by our own emails and Facebook posts. A number of us chipped in on drinks, soft drinks, and food, and quite a few folks stuck around after the broadcast to chat and help put stuff away.
In all, it was a fine, fun Wednesday evening that demonstrated we have folks who care and contribute, and an attractive, lively place for all sorts of events—our video, sound, wifi, seating, tables, and decorating worked very well together.
So thanks again to Tom and Marcia, to those who've helped us transform our office, and a very special thanks to those who showed up for and contributed to the gig.
It was a fine night!