Benzie Democrats are running in five of the county's seven County Commission districts, so this in an especially important year for your involvement in the local election. We now have a shot at winning a majority on the commission!
The Districts and their candidates are:
Districts 1 and 6: No Democratic candidate
District 2 (Lake, Platte, and western Almira townships): Mark Willette-Green 

Mark is a problem solver eager to tackle a big Benzie challenge: spotty internet service.
"When I built my business here, I had to give up a lot of quality broadband," he said. "We're mostly still stuck operating on 19th-century phone lines. Fixing that would draw more businesses, help our schools and stop holding back our community."
 Mark knows how: He installed Traverse City's first governmental computer network, helped local Community Mental Health agencies go digital, launched an information technology company, and helps businesses with their IT.
 Mark and his wife, Virginia live on the Platte River, have two children who graduated from Benzie Central. Like so many couples, they saw their kids move far away because our area lacks year-round jobs and entrepreneurial opportunities. As a county commissioner, Mark will work to turn that situation around and bring good, well paying jobs here. A fundamental step is providing universal access to fast, dependable, affordable broadband.
 "We Dems running for commissioner see eye to eye—we're not interested in business as usual. If we win a majority in November, we can make good things happen for businesses, schools, and families!"
District 3 (City of Frankfort and Crystal Lake Township): Linda Farrell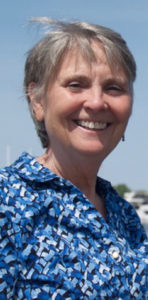 Linda grew up with eight siblings, on a tight family budget. That's why, for her, it's about service—and making hard but prudent decisions.
"As oldest sister, with both parents working evenings, I learned to listen to my siblings and figure out what they needed—from preparing meals to mediating arguments, to helping with homework," she says.
Her life confirms the power of listening to and helping people: She has three children, four grandchildren, and has been married to her husband, Tom, for 42 years.
Linda's been a licensed practical nurse in pediatrics and obstetrics, and a doula. She was an adult literacy program coordinator, childbirth educator, and English as a second language teacher for high schoolers, adults, the homeless, and refugees. She tutored elementary students, and worked with foster kids, Big Sister programs and the Girl Scouts. Today she works with the Frankfort Tree Board, the Advocates for Benzie County, the Frankfort Planning Commission, and Benzie County Democrats.
"I'm good at listening, cooperating, and problem solving," she says. "I can stand my ground, but also be persuaded by fact-based arguments. I'm willing to be proven wrong, but that does not mean I'm wishy-washy."
Linda sees being commissioner as another way to serve, by working to build a strong Benzie County: "To thrive, our families and community need fair, responsible funding of county services, strengthened year-round and seasonal economies, and the safeguarding of our beautiful, natural Benzie County."
District 4 (Benzonia Township): Coury Carland

Our main man Coury is a Frankfort High School grad, was a candidate for sheriff in 2012, and won a commissioner seat in 2014, representing Commission District 4 (Benzonia Township).  Our lone Democratic  commissioner richly deserves some like-minded board colleagues.
District 5 (Homestead Township): Jeff Sandman
Jeff Sandman is a natural born leader: Class salutatorian; baseball, football, and basketball captain at Frankfort High; teaching sub, campaign manager, coach, and ref. Jeff was a county commissioner in 2007, but had to leave for better-paying work, at the Benzie County Record Patriot. Today he manages Frankfort Community Federal Credit Union, but wants to run again in order to help reverse a harmful trend.
 "Hardworking, intelligent people are moving away because we can't pay them very well to do anything here," he says. But the county can help. If you can get some housing middle-income folks can afford, along with high-speed internet, you could bring young families here. It would help schools; local businesses would hire more young people. Right now there are 'help wanted' signs everywhere, but why come here for a job that barely pays anything?"
 Jeff, who lives in Honor with his wife, Kelly, and two children, says county government needs more fiscal responsibility: Benzie spends too much, too quickly, without asking hard questions.
 "If we had three more Democratic commissioner, we could stop some of this." he says. "You don't have to be everybody's friend when you're voting on budgets."
District 7 (Blaine, Gilmore, Joyfield, and Weldon townships): Don Smeltzer
Don Smeltzer, a fourth-generation Benzie farmer, grows apples and cherries in Blaine Township. His experience, U of M business degree, and previous county commissioner stint make him the right person to help Benzie's farmers.
 "I'm running because I'm part of the community and I'm taking care of my farm to pass it along." he says. "This 'I got mine, so I don't need to help you' mentality wears us down. As a farmer, I have a knack for creative solutions that don't take a lot of money."
 Don knows business and government well. He served on the Benzie County Farm Bureau, MSU Horticultural Society, Centra Wellness Network, and Cherry Administration Boards, and worked as Blaine Township assessor and supervisor. He collaborates well with people while monitoring their budgets.
 He suggests ways to help growers: protecting fruit crops from trucking damage with better county roads; keeping farm taxes low but maintaining crucial ag services; encouraging farmers to collaborate, not just compete.
 If Dems win a commission majority, Don will be able to work to improve Benzie's farm economy, swapping Republicans' business-as-usual approach for strategies that get the county moving.