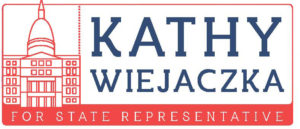 SUMMER BARBEQUE ■ COOKOUT ■ FUNDRAISER TO SUPPORT
KATHY WIEJACZKA, DEMOCRAT FOR 101ST STATE HOUSE DISTRICT
Special guest candidates: Kathy Wiejaczka, Mike Taillard for state senate, 35th District,
and Mark Willette Green for County Commission, Benzie County District 2.
Saturday, June 23rd at 4 p.m.
Cocktails followed by Meet & Greet with food.
LOCATION: 10875 Oviatt Road, rural Honor in northern part of Benzie County
(look for a small "John Deere windmill" and head toward the big barn).
Hosted by Robb Bollenberg & Jeannie Strathman.
Brats, burgers and some beverages will be available.
BYOB and finger foods to share, if you'd like.
QUESTIONS? Contact Robb at 231.510.2213. RAINY THAT DAY? Will be hosted in the farm house.