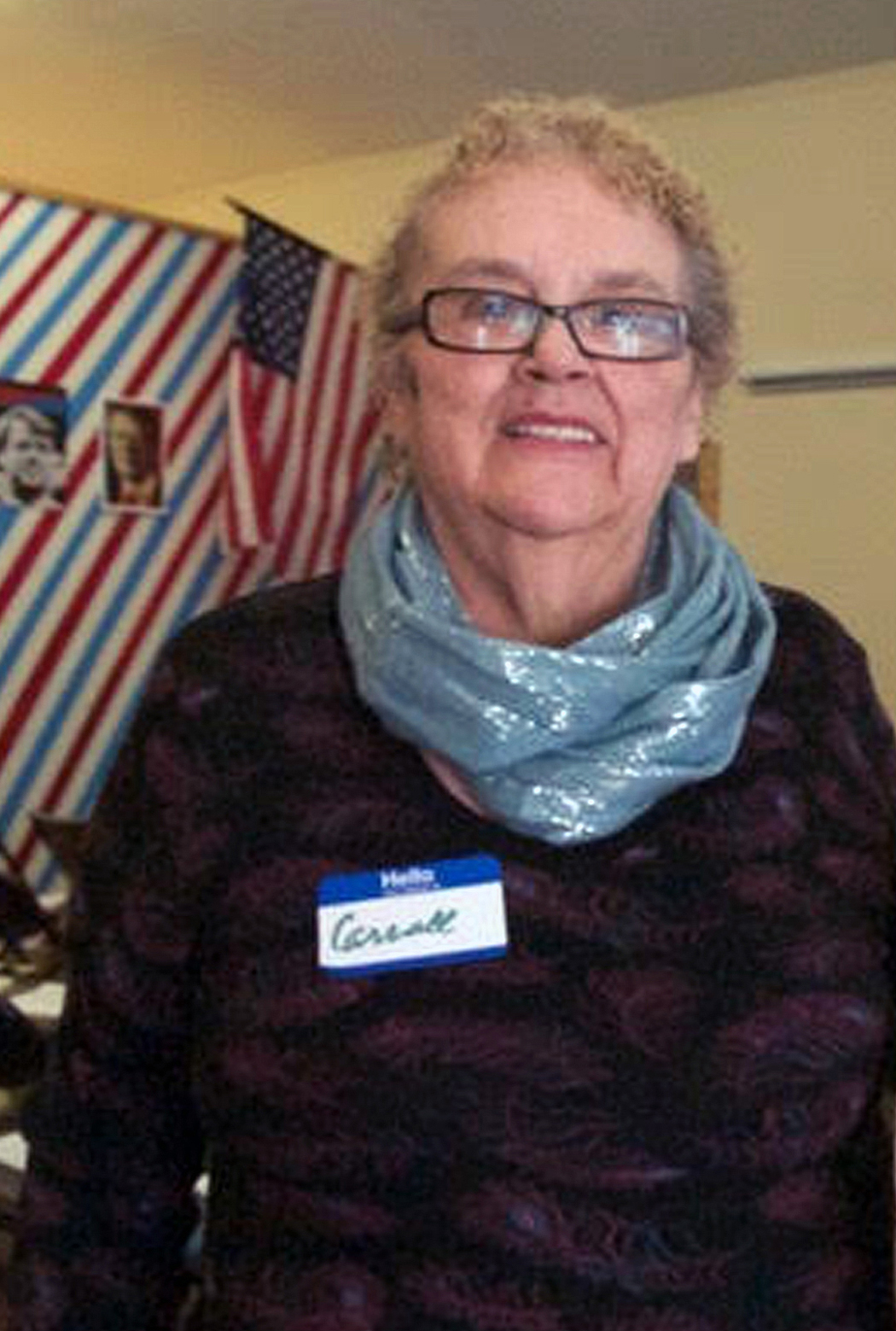 Benzie Dems Scholarship Honors Carroll Volpe
---
Carroll Volpe

Our friend Carroll Volpe is one of the original organized Benzie Dems, having been a member since 1970. Since joining, Carroll has been a leader, organizer, and anchor for the organization and its members.

To honor Carroll, the Benzie Democrats have established the Carroll Volpe Scholarship for high school seniors. The first fund-raising event, held in April of 2019 was a great success and the first scholarships will be awarded in 2019. You can donate to the scholarship fund by sending an annotated check to the Benzie County Democratic Committee.
******
Carroll was born Mildred Carroll Zimmerman on July 1, 1937, at home on the Platte River near Honor right here in Benzie County.  She has lived in Benzie all her life in various places around the county and presently resides in the Village of Honor.
Carroll was raised in what she terms as a good Democratic family.  One of her earliest memories involving politics was at about the age of 6 or 7 going along with her Dad as he searched for and interviewed possible candidates to run under the Democratic ticket for Sherriff of Benzie County.
Carroll held one job or another from the age of 10 on.  She reports that her first jobs were babysitting and cherry picking.  Beginning at age 13, she worked at Money's restaurant in Honor where she had a lot of responsibility, including sometimes overseeing the restaurant when the owners went on vacation.  She held jobs at most of the canning facilities in the area and eventually went on to work for the Petritz pie company in Beulah.  Carroll worked with others to unionize that facility, and after a long, hard-fought battle, the workers at Petritz won union representation under the Bakery Workers Union in 1968.  From 1973 to 1998 she held the union position of Secretary/Treasurer for the Bakery Confection and Tobacco Local 81.  From 1975-2000 she served as Secretary and Treasurer for Traverse Bay Central Labor Council and is an AFL/CIO member to the present day.
Before retiring, Carroll went on to work for Michigan Works. There she helped jobseekers find work and educational opportunities.  For many years, Carroll also represented labor interests on the Workforce Development Board, which oversees Michigan Works for a 10 county region in northwest Lower Michigan.
For the Benzie Democrats, Carroll served as our Secretary for 39 years, has led innumerable campaign committees for individual candidates as well as serving as our campaign office manager and county campaign coordinator.  She produced the newsletter for many years, and recently served as vice chair, membership committee chair, and continues to serve on our county party committee. She also continues to mentor us on know how to run a local party organization.
For 12 years, Carroll served as a delegate to the Michigan Democratic State Central Committee and was a National Convention Delegate in 1984.  For eight years she served as the chair of both the 1st and 9th Congressional District Committees.
Carroll has unselfishly contributed her skills and experience to the community through service in our local government. She served as Clerk for the Village of Honor for a decade.  For Benzie County, Carroll has served on our jury board from 1982 to the present (2010).
In the area of human services, one of Carroll's proudest accomplishments was her role as co-founder for the United Labor Food Bank in 1990.  She then served as Secretary/Treasurer for the food bank for 12 years.  Her involvement in human service volunteer work has extended to various organizations throughout the years, many of which have been United Way affiliates.
In the midst of Carroll's long service and stunning accomplishments in the realms of human services, workers' rights, and the political process, she raised six children.  They are: Susan Lemon, James Volpe, Robert Volpe, Stephanie Sutherland, Vanessa Mills, and Michael Volpe. She has seven  grandchildren and eight great grandchildren
Carroll said she is a Democrat because that party strives to give working people better opportunities. She's a union member like her Dad was, which, she said,  allowed her to earn a good living wage while she was raising her family.