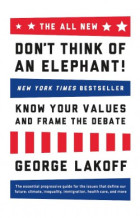 Benzie Dems and Leelanau Dems are presenting some highly talented trainers who will teach on the wisdom contained in George Lakoff's classic books, The All New Don't Think of an Elephant and The Little Blue Book–The Essential Guide to Thinking and Talking Democratic.
It all happens at Empire Township Hall on Friday afternoon, Jan. 24, from 1 to 4 p.m. This is a genuine project, guys and gals: It costs money ($35); they'll send us pre-session homework; and we'll work on stuff together to learn by doing. These folks are dead serious about getting Dems to avoid Republican dis-information traps and, instead, stay on OUR positive message. So grab your plastic & register right here, right now.
If the 35 bucks is a challenge, just drop a line to the trainers by clicking here and let 'em know you'd like to come but need help with the fee. There are only 35 seats available, so don't wait!