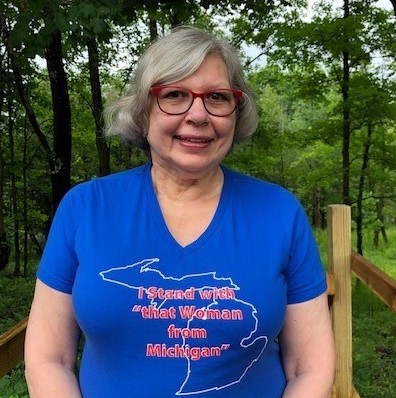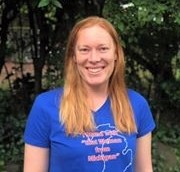 You can support Benzie Dems' Carroll Volpe Scholarship Fund AND Governor Whitmer's strong stance on combating COVID and Individual 1's bizarre attacks! Just purchase a royal blue "I Stand with that Woman From Michigan" T-shirt. It's the Summer's finest fashion statement!

Your $25 minimum donation gets your choice of a crew or v-neck shirt, in your choice of M, L, XL and XXL.
To get yours, and support our scholarship fund, just grab your credit card and click the "T-Shirts" button, HERE or in the navigation bar above.
Or mail a check to Benzie Democrats, PO Box 403, Beulah, 49617, with desired quantity, sizes and mailing/delivery address, phone number and email. We'll home deliver within Benzie County—or mail to you if you live out of town.
Or pick yours up in person at Headquarters, next to the Cherry Bowl Drive In. (CASH or CHECK only)
HQ HOURS: Tuesdays noon to 4; Wednesdays noon to 4;  Thursdays noon to 6; Saturdays 10 to 2.
Please be as generous as you can! Order extras for like-minded friends!
.