Benzie Dems & Friends are welcome to these free events! We'll provide meat and veggie chili, salad, cornbread, soft drinks, and ice. You're welcome to BYOB, and if you'd like, a dish to pass.
Where: our HQ on U.S. 31 in Honor. Door opens at 5 p.m. Films at 7. You're welcome to hang out afterwards, even help clean up.
FEB. 23 – "Standing in the Shadow of Motown" was a great film and the evening was a success!
MARCH 2 – "Reefer Madness" – A good time was had by a great crowd!

MARCH 16 – Michael Moore's Early TV Shows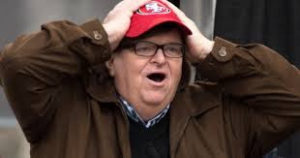 Many years ago, after hitting the big time with "Roger & Me," Michael Moore produced and directed several TV series that barely saw the light of day on cable and broadcast channels. We've got a boxed set of this early work, and we'll show a few of our favorites.