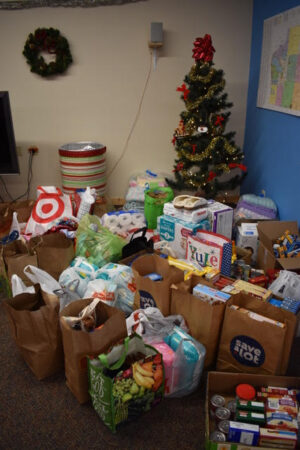 Benzie Dems Blue Tigers
Community action by our local party; includes roadside cleanup for two Adopt-a-Highway sections, food drives, assistance with the Thompsonville Summer Fest and other activities.
We celebrated the 2022 Holidays by gathering  baby and food items, and close to $4,000 in donations, for St. Philip's Baby Pantry and the Benzie Food Network.
Advocates for Benzie County: "Our mission is to promote a better quality of life for all residents of Benzie through education, health care, housing, infrastructure and employment."
Benzie Area Christian Neighbors: Strives to improve the quality of life for people with limited resources in our community by providing food, clothing, financial assistance, education and social support in collaboration with area resources.
Benzie County Conservation District: Aims to foster the best use of land for the present and future benefits of the community, based on the land's capabilities and landowners goals; a "gateway" to resource management information and service providers.
Benzie County Water Festival: Sponsored by the Benzie Community Water Council to attract, entertain, educate and activate individuals and groups within the community regarding water quality and protection.
Benzie Senior Resources: The Benzie County Council on Aging and Benzie Home Health Care have together formed Benzie Senior Resources, a full resource organization that connects seniors to the programs and services that address their specific needs.
Groundwork Center for Resilient Communities: [(Formerly Michigan Land Use Institute) "Our mission is to protect the environment, strengthen the economy, and build community."
Grow Benzie: Grow Benzie enriches our region by fostering positive action to increase access to healthful foods, jobs, life skills, and each other and by providing a community place that supports and nurtures these activities.
League of Women Voters of the Grand Traverse Area: The League of Women Voters is a nonpartisan political organization encouraging informed and active participation in government. It influences public policy through education and advocacy.
Libraries
Betsie Shores District Library in Frankfort
Darcy Library in Beulah
Benzonia Public Library in Benzonia
The Arts
Oliver Art Center : Gallery, gift shop, classes, and art events in Frankfort.