Join us Thursday May 31 at the Garden Theater in Frankfort
for a night out with the Blues Brothers: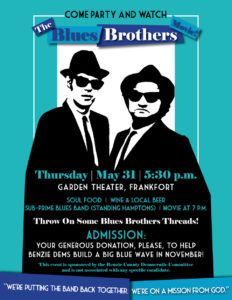 "We're putting the band back together."
5:30 p.m. social with the Subprime Blues Band (Standing Hamptons), free soul food, drinks with a great film at 7:00.

Get out a skinny time, shades, a hat, some black duds,
join us for some laughs and help the Benzie Dems
build a big blue wave in November.
Admission: Your free will donation to the Benzie Dems.
"We're on a mission from God!"
Film stars John Belushi & Dan Aykroyd with appearances by James Brown, Cab Calloway, Ray Charles, Aretha Franklin, and others. Event sponsored by the Benzie Dems; not associated with any specific candidate.