Show up our Sat. Sept. 16  meeting. After our tasty, complimentary koffee klatch (treats and quality java) at 9:30 a.m. we'll be hangin' with Hannah! That's Hannah King of Cheboygan. She's paid by the state party, but works for us. As a veteran rural county Dem, she knows what we do and don't need from Lansing to turn back the sad tide that's upset us so since November.  If winning progressive representation  means anything to you, join us Saturday.
Also available Saturday for your signature: petitions for Debbie Stabenow, anti-gerrymandering, and legalizedmmarijuana. Benzie Dems HDQ is right next to the Cherry Bowl Drive-In.
Other news:  Office is redecorated with some comfortable furniture and we've got a healthy computer, fast wi/fi, good digital sound and projection, better phones, an improved website, and more people power: a near record number of paid-up members and a cool new recruitment brochure to help us double that. One hundred folks are coming to the 9/17 Honoree Dinner, and new new people are trained up on the MI Dems voter data base. We look forward to having you join us! You'll be encouraged that Dems are going back to the grassroots to save our country from permanent oligarchy.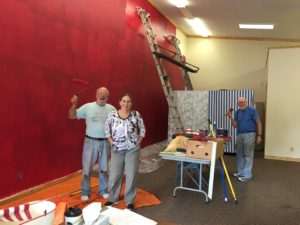 Need a little musical inspiration? Try this rare and tasty track: H.P. Lovecraft's terrific version of Let's Get Together.
Jim Dulzo, Carroll Volpe, Mike Ross, Chair & Vice-Chairs, Benzie County Democratic Party